Neo just turned a year old last Friday on July 13th. Tracey has been working on me for over 6 months to get a second Beaglier for Neo to have a playmate. Well, the white ears of Naboo finally helped her convince me. So we booked a quick trip to fly into Atlanta, GA on Saturday night, drive to Chattanooga to stay overnight, and drive to Beechgrove, TN in the afternoon to pick up Naboo and drive back to Atlanta that evening to fly back home. We decided we had time for on quick side-trip to visit the Jack Daniels Distillery that I have always wanted to visit.
As our trips usually go, what we envisioned and the real experience were quite different. The flight to Atlanta was relatively smooth, but the drive to Chattanooga was not. We rented a car from Avis, and we got a silver Kia Optima with just under 12K miles on it. When pulling onto the highway and hitting over 45mph, the car developed a significant vibration throughout the cabin. It tended to mostly subside at speeds over 65mph. Since it was very late and we had a 3 hour drive, we just plowed ahead.
We stopped at a Kroger, just before the TN border, as I thought to have Tracey check to see if they sold wine in grocery stores in TN, and found they only sold until 11pm and it was 11:30pm. We got a bottle of wine and some snacks for dinner, and waited what seemed like an eternity to checkout. This Kroger only had self-checkout, and every person seemed to need some sort of assistance from the attendant, and the line was exceptionally long for almost midnight on an Sunday. Mostly kids getting snacks as well.
We got the to LaQuinta in Chattanooga, checked in, and headed up to the room. I of course had to mention, I hope the AC is working as we walked from the parking lot, as it was typical weather of hot and humid. Sure enough, we got to our room on the 3rd floor and the AC was off and it was in the 80's and very stuffy. Immediately went for the AC thermostat, only to find it would NOT turn on. We instantly did a U-turn and back downstairs to see the front desk clerk for some resolution. He was able to come upstairs and turn on the unit by crawling underneath it. With the AC humming away to start cooling the room, we took a shower, had some snacks and wine, and called it a day.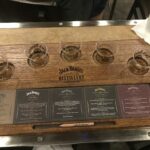 Sunday morning we ate some breakfast at the hotel and took off for an hour and a half drive to Lynchburg, TN to do the Angel's Share Distillery Tour at Jack Daniel's Distillery. The tour was excellent, and the tasting was well worth the few dollars extra to taste the higher end and rarer whiskey's. It was quite the experience as it was partly outdoors, and we got a heavy dose of thunder, lightning, and rain. We both looked like drowned rats by the end, but it actually felt nice to get a little cooldown from the heat and humidity.
After our tour we set off to Beechgrove, TN to Happy Hill Pups to pickup Naboo. After almost missing a turn, I had to slow down quickly to make the turn and the Kia made some really loud b
angs in the front end. The car seemed relatively ok after that, so we continued on.
After finding the house for Happy Hill Pups, we finally got our Naboo and headed out for the long drive back to the Atlanta Airport. Poor Naboo immediately got car sick. The damn car I am sure was mostly to blame. By now the vibration was much worse, and my anxiety level was at an all-rime high. I wasn't sure the car would make it and get us to the airport safely. To make matters worse, towards the last quarter of the drive, traffic came to a standstill due to read construction.
We finally made it to the airport with just enough time to spare, got checked in, and thankfully were able to get our seats changed so we could sit together. Poor Tracey covered is dog vomit and pee, got cleaned up and changed her clothes. Our departure was delayed due to late arrival of the crew, and the guy sitting next to Tracey was also on a delayed flight, and made it just as they were closing the doors. I thought we was going to pass out, as he ran from his delayed flight and was breathing very heavy. He was coughing up a storm for the 1st half of the flight, which was due to him running, and not from being sick. Of course he was a Nibler and took off his shoes, and was rudely taking up part of Tracey's space with his legs. But, in the end, a mostly uneventful flight home.
We got home and put Naboo in her crib and said hello to Neo and Nyx, took a shower, then introduced the dogs. Neither Nyx nor Neo really seemed to care about Naboo. After a glass of scotch, it was time for much needed sleep after a long day.